God Worked Miracles for My Sister, Sylvia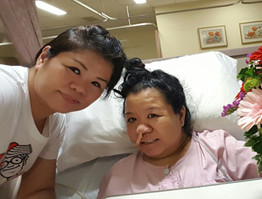 28 Jan 2016 - Sylvia collapsed at her office around 11am. She is unconscious and in very critical condition due to bleeding in her brain. A brain operation must be done to stop the bleeding immediately. Sylvia will be put on life support to stabilise her condition. Urgent intercession and prayers requested.
29 Jan 2016 - Today's CT scan shows the bleeding in the brain has stopped. However, the surgeon has not been able to remove the blood clot as it is too deep in the brain. We pray for divine intervention for the blood clots to be dissolved, regain consciousness and restoration of Sylvia's speech, right side movement and brain activities.
31 Jan 2016 - The doctors have reduced the sedation medication. Sylvia opened her eyes twice but could not follow the doctor's instructions. Pressing in for the Lord's divine healing and reversal of damaged brain functions and total recovery.
2 Feb 2016 - Sylvia continues to be on life support. The CT scan showed a 30-40mm blood clot in the brain. Praying and trusting the Lord for divine intervention that the blood clot will dissolve, dead cells/nerves and speech/brain functions to be restored. Also that Sylvia will regain consciousness.
3 Feb 2016 - Hallelujah, PTL. Sylvia has opened her eyes and responded to us.
5 Feb 2016 - The doctors are very surprised that Sylvia has regained consciousness and her condition has improved tremendously although the blood clot is still embedded in her brain. This morning the doctor will remove the life support machine. Thank you Lord for the 1st miracle. 2nd miracle: She can communicate with us and is asking for food and drink as she is very hungry.
6 Feb 2016 - 3rd miracle – Sylvia is able to move her right arm and leg. Praise the Lord, she could swallow 5 spoonfuls of the mixture given by the dietician without difficulty and the speech therapist is positive that Sylvia's speech is not likely to be affected.
8 Feb 2016 – 4th miracle: Sylvia will be transferred to a normal ward. The tube which helped to drain the fluid was removed from her head. She is slightly disorientated, discouraged and frustrated but we know divine healing is taking place and she will soon be well.
10 Feb 2016 - Praise the Lord! Most of the tubes have been removed and the feeding tube will be removed tomorrow as Sylvia is now able to eat and drink by herself without help. She can also sit upright on the bed without assistance. In addition we notice movements on her right leg.
11 Feb 2016 - The Lord is so merciful and sends His angels to protect Sylvia. Last evening she fell from the bed but no injury has been sustained!
12 Feb 2016 - Sylvia is transferred to an Integrated Hospital for intensive physiotherapy sessions. In just 2 days she has made remarkable recovery in her speech, and also able to eat soft rice. All tubes are now removed. Sylvia is on the road to recovery! Praise the Lord!
13 Feb 2016 - Sylvia is able to eat solid food! Praise the Lord!
19 Feb 2016 - Today Sylvia is able to lift her right leg and hold it steadily at 20 degrees. The latest CT scan showed that the blood clot in her brain has shrunk to 34 mm from 57mm!
22 Feb 2016 - Sylvia walked 20m with the physiotherapist's help. She could move her right hand onto the arm rest of the wheel chair, lift her right leg about 30 to 40 degrees while lying down and able to read a passage.
24 Feb 2016 - Praise the Lord Sylvia is able to lift her right leg to 30 degree while sitting on the chair and 90 degrees while laying on the bed. Today is her 1st attempt to walk with a walking stick with the help of the physiotherapist.
Her memory capacity has increased tremendously like birthdays and mobile numbers. She is also reading more challenging passages, recognising objects, fixing puzzles and her ability to identify and solve problems has improved. Praise and Glory be to our Wonderful God. Our God is mighty to save and He never forsakes us when we cry out to Him for help
28 Feb 2016 - How great and merciful is our God! Today Sylvia is able to leave the hospital since her admission on January 28 .
My family thanks Church of Praise pastors, church members, friends and relatives for their visits and the love and concern shown towards Sylvia. Thank you prayer warriors. Hallelujah! All glory to God!
Healed of Prostate Cancer that had already spread
在十八年前,医生诊断我患前列腺癌,已扩散到骨头,而且只能活上两三年。我要向神感恩祂的医治和保守,今天我仍然活着成为祂荣耀的见证!
18 years ago, I was diagnosed with prostate cancer, which then spread to my bones. I was given 2 to 3 years to live. I wish to give thanks to our God for His healing and protection that continues to enable me to live to give this glorious testimony today.
God's healing upon Grandmother and Granddaughter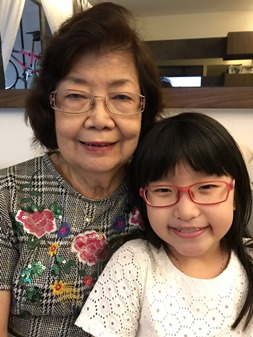 Pain from a Baker's Cyst

On 13/9/17, I went to the Emergency Department of Tan Tock Seng Hospital as my right leg was swollen from the knee down to the foot. An ultra sound was done and I was diagnosed as having a burst Baker's Cyst.A Baker's Cyst is formed when excess joint fluid is pushed into one of the small sacs of tissue behind the knee, forming a cyst. It usually results from rheumatoid arthritis – a condition that I suffer from.The cyst would eventually burst and the drained fluid would cause the leg to swell. I was given some painkillers and told to go home.
I requested my Siglap cell members to pray for me as I was feeling uncomfortable and walking was painful. The pain did not go away even after 5 days so I returned to TTSH to see a rheumatoid arthritis consultant. I remember it was a Monday. The consultant suggested admitting me so that antibiotics can be administered intravenously. I told her I didn't want to be admitted because I want to be at the weekly 'Release of the Miraculous' session at my church the next day. I planned to ask my 2 lady pastors to pray for me as I believe God will heal my right leg. To my pleasant surprise, the consultant responded that she too would pray for me.
At the session, Pastor Leng and Pastor Cher laid hands on my right leg and prayed for me. Praise the Lord, the swelling and pain went down significantly by the following day. Within the next two days, the swelling subsided completely and I was able to walk pain-free. I thank God for His healing power and also for all the miracles He did for my family.
Please read a testimony of God's healing upon my granddaughter Kaylene that follows. As an update, Kaylene's bladder condition has improved. She is eating well and has even put on weight.
All praises and glory to our God Almighty. Amen.
God comforts and strengthens 7-year old Kaylene
On 26/12/2015 my 7-year old granddaughter Kaylene underwent surgery for a spinal lipoma. The days leading up to the surgery was a period of great worry and anxiety for her parents and all at home. I requested prayers from Pastor Cher, Pastor Leng, members of the Siglap cell and Church of Praise intercessors for a successful operation for Kaylene.
Kaylene came out of the operating theatre after 12 hours of surgery. God is really Great! He sent His Angels to comfort, protect and strengthen her. She didn't cry even when she first came out of the operating theatre with her face and lips all swollen. Neither did she complain throughout her 16-day stay in hospital, waiting for the surgical wound to heal and for the stitches to be removed.
On the Sunday immediately following the surgery, Pastor Leng led the church to pray for Kaylene. The very next afternoon, Kaylene was transferred out of the ICU to a general ward. We are continuing to trust the Lord for the complete restoration of Kaylene's bladder function. Thank you everybody for your prayers. I thank God for His healing power!
ALL PRAISE AND GLORY TO GOD!